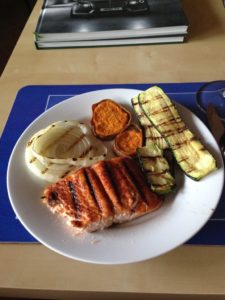 I love to cook and bake. Living in Arizona, we can grill all year long, which is awesome. With summer approaching, and some New Yorkers being able to grill, I thought I'd share my Grilled Asian Salmon recipe. It's super easy. Pretty much every Sunday in my house is Salmon Sunday. We grill the salmon along with vegetables, usually onions and zucchini.
1 pound fresh salmon, boned but skin still on
2 tablespoons Dijon mustard
3 tablespoons good soy sauce
3 tablespoons good olive oil
1 teaspoon minced garlic
½ teaspoon ginger powder
Whisk together the mustard, soy sauce, olive oil, garlic and ginger powder in a small bowl. Drizzle half of the marinade onto the salmon and allow it to sit for 10 minutes or longer. Place the salmon skin side down on the hot grill; discard the marinade the fish was sitting in. Grill for 4 to 5 minutes, depending on the thickness of the fish. Turn carefully with a wide spatula and grill for another 4 to 5 minutes. The salmon will be slightly raw in the center, but don't worry; it will keep cooking as it sits. Transfer the fish to a flat plate, skin side down, and spoon the reserved marinade on top. Remove the skin and serve. If you don't have a grill, it's also great broiled!